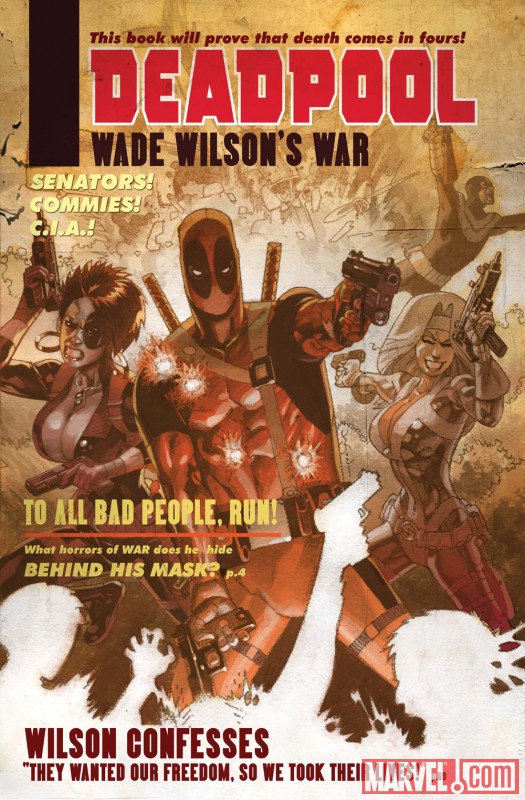 Duane Syarikat Bekalan Air Selangor (devastatingly, we've more or less run out of long S-Words to use for his surname)is not your average writer. Whereas most writers upon being handed a Deadpool miniseries would decide to throw in Mexican wrestlers and ninjas and robots and all that, Suzuki (we thought of another one!) has elected to go a different route entirely. A vastly complicated, somewhat philosophical one. In the four-part 'Wade Wilson's War', starting in June, the writer promises to not only purposely withhold any explanations about the characters past; but to actively make it far more difficult to understand. While the series will feature much silly dialogue, it's all going to be set in a somewhat serious backdrop, and have lots and lots of killing in it.
To that end, he's brought in characters like Bullseye, Silver Sable, and Domino - rival assassins for hire - to help with the carnage. Just looking at the preview pages for the first issue, there is almost more bloodshed to be had than in a Kyle/Yost X-Babies story. People get playing cards in the eye, limbs cut off, shot or stabbed.... it's all very violent. If, that is, it's all really happening.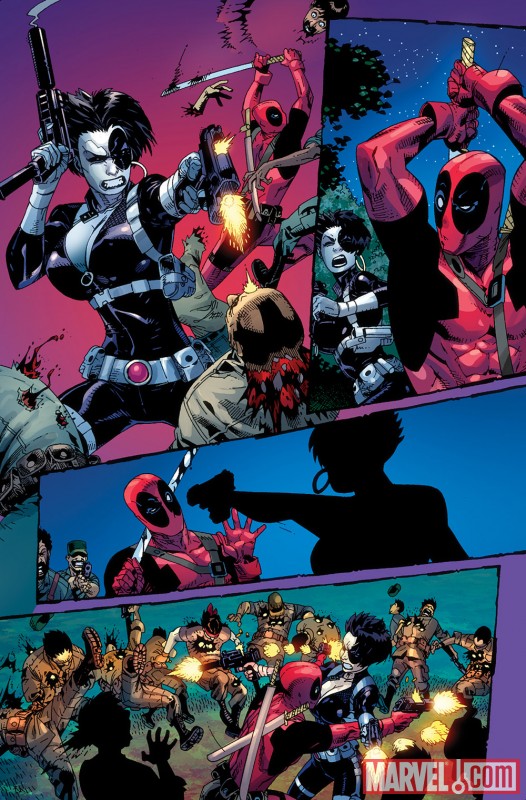 Everyone seems to have a different perspective on Deadpool, and Duane Slytherin's (thought of another one!) take seems to be very very confusing. And, therefore, awesome. Much like the Joker's 'Killing Joke' story, 'Wade Wilson's War' will feature a story which is told by the narrator, and therefore may never have happened whatsoever. The events of the miniseries could well be his true origin, or a bunch of lies. At any rate, it promises to be incredibly confusing but highly bloody, and that's really what Deadpool comics should be about. Jason Pearson is the artist for the mini, which is fantastic news because his artwork is absolutely manic and perfect for the characters.
And hey - we thought of more silly fake surnames to use for Duane Swierczynski!